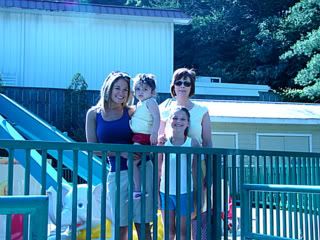 Last week I had the chance to meet up with Mawmaw, Amber, Ella-Kate, and Taylor and spend a few days in Pigeon Forge. Monday we went to a couple of shops and to the Dixie Stampede. Ella-Kate loved the show and so did Taylor. Amber and I loved the food!
Tuesday we took a trip to Dollywood and had a blast. Ella-Kate and I rode the Flying Elephants and she had such a good time. The whole time we were in the air she wouldn't stop laughing. Her and Taylor also rode some more of the smaller rides together. The weather was perfect and not too hot so we had a really good day together. We also got to see a VeggieTales show while we were there, so that was fun too.
Wednesday we filled the day with shopping and eating. For supper we took in a show at The Black Bear Jamboree and loved it! The food there was amazing and the show was really good as well.
I'm so thankful to have such a great family, and even more thankful that I got to spend a few days with them.